VFC SITE ENROLLMENT
The California Department of Public Health (CDPH) invites California providers serving VFC-eligible children (Medi-Cal, American Indian/Alaskan Native, uninsured, and underinsured) to enroll in the California VFC Program.
We are also encouraging birthing hospitals, acute care hospitals, and others providing care to neonatal patients to join the VFC Program to ensure newborns are immunized against RSV and Hepatitis B; enrolled birthing hospitals will only be required to administer RSV and Hep B vaccines. By enrolling, birthing hospitals will benefit by:
Receiving RSV and Hepatitis B vaccine at no cost,
Protecting your infant patients with recommended vaccines before they leave the hospital,
Getting ongoing educational and quality assurance support, and
Preventing RSV and Hep B among vulnerable communities in California.
Before You Enroll
1. Make sure your vaccine storage equipment meets VFC Program requirements.
2. Enroll in CAIR (California Immunization Registry) to receive a registry ID for each site receiving vaccines.
AB 1797 requires providers to enter doses administered and the patient's race and ethnicity into CAIR or RIDE/Healthy Futures. (See FAQs for details.)
If you have already enrolled, you'll need your site's CAIR Org Code to complete enrollment.
3. Designate key practice staff who will act in these four required VFC roles:
Provider of Record (POR): Responsible for the practice' overall compliance with VFC Program requirements and typically licensed as a Medical Doctor, Doctor of Osteopathy, Nurse Practitioner, Physician assistant, Pharmacist, or a Certified Nurse Midwife with prescription-writing privileges in the state of California.
Vaccine Coordinator: On-site and fully trained staff member responsible for all vaccine management activities within the practice.
Backup Vaccine Coordinator: On-site and fully trained staff member responsible for all vaccine management activities when the Vaccine Coordinator is unavailable.
Provider of Record Designee: On-site staff member designated by the clinic's Provider of Record to act on his/her behalf for VFC Program-related matters when the POR is unavailable.
4. Provider of Record & Designee and Vaccine Coordinator & Backup must complete all required EZIZ training.
First-time Users: Create an account then sign in to start the training. Upon completion, each registered EZIZ user will receive a unique User ID and Confirmation Code, which will be visible on your Learning History page. (Record these for use during the enrollment process.)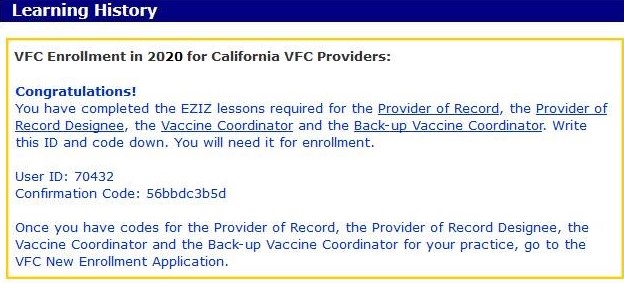 Existing EZIZ Users: If you work at a practice that is already a VFC provider but are opening a new site with the same key practice staff, call the VFC Call Center at (877) 243-8832 so that we can generate a User ID and Confirmation Code for you. (Record these for use during the enrollment process.)
5. Download and review these job aids, which prepare staff to implement the VFC Program in your practice:
6. Prepare and set up vaccine storage units that will store VFC-supplied vaccines; set up their data loggers; record storage unit temperatures for 3-5 days. Ensure staff know how to operate your data loggers. These resources will be helpful:
7. Gather the following documents, which must be uploaded during the enrollment process. (Accepted file formats: JPEG, ​JPEG, PNG, PDF, Excel, or MS Word. Maximum file size: 4MB.)
Completed VFC temperature logs (three days at minimum) and data logger downloads
Documentation of vaccine storage equipment setup

Picture(s) showing interior of vaccine storage units (must clearly show placement of vaccines, data logger probe, and water bottles)
Picture(s) showing exterior of vaccine storage units (must clearly show entire vaccine storage unit)
Picture(s) of data logger digital display and setup
Pictures of "Do Not Unplug" signage placement

Copies of certificates of calibration for primary and backup data loggers
Completed vaccine management plan – Word template | pdf
Federally Qualified Health Centers/Rural Health Centers (FQHC/RHC) must upload a copy of their license/certification or fax a copy to 877-329-9832.
How to Enroll
1. Recommended: Download and complete the Provider Enrollment Worksheet to gather information needed to enroll. DO NOT SUBMIT the worksheet to the VFC Program.
2. Complete the Provider Enrollment Form by transferring the data from your completed enrollment worksheet to the designated fields on the enrollment form.
You will need each key practice staff member's unique User ID and Confirmation Code (generated after completion of the required lessons).
Review the federal VFC Provider Agreement and Provider Agreement Addendum (additional details on all California VFC Program requirements).
3. Review the form for accuracy then submit your application.
What's Next
The VFC Program will review your enrollment form for completeness and satisfaction of all requirements. Once verified, your regional VFC Field Representative will contact you within 5 business days to schedule a virtual appointment. Upon approval, you will receive a VFC Provider Identification Number (PIN), which you will need to order vaccines and for all future interactions with the VFC Program. Once your PIN is assigned, VFC will process your first vaccine order.